On May 11, 2022, nearly 300 of the region's finest printing professionals gathered at the highly anticipated 18th annual Excellence in Print Q Award Ceremony hosted by the Printing and Graphics Association Mid-Atlantic (PGAMA) at Martin's West in Woodlawn, MD.
Each year, this event celebrates outstanding achievements in print quality and creativity in our region in 49 categories such as Best Use of Color, Booklets, Calendars, Annual Reports, and much more.
Of 10 finalists in the contest, Printing Specialist was selected for seven Best of Q awards in the following categories:
Printing Specialist Takes Home 7 Best of Q Award Categories
Annual Reports
Books: Paper Covered
Brochures and Pamphlets
Catalogs – Institutional
Catalogs – Product Oriented
Postcards and Self Mailers
Stationery – Individual or matched sets
In addition, Printing Specialist was selected for a Special Award for Best Use of Design.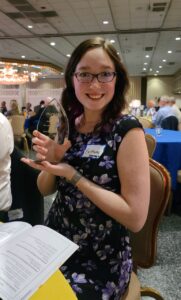 "We are honored to be recognized among extremely talented and formidable print companies and grateful to PGAMA for putting this annual event with industry peers," says Scott Buswell, industry veteran and Printing Specialist Senior Executive.